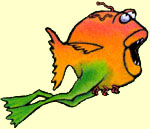 MATERIALS NEEDED FOR SCHOOL PRESENTATION
Have the set of my picture books handy for display

Carousel Slide Projector (I bring my own slide cartridge)

Microphone

Have a large roll of white (or light color) paper handy. (The rolls are usually 36 inches wide). You can cut several 4 foot sections to get me started.

Masking Tape

Pair of scissors

A couple sets of magic markers (non-permanent).

If you have movable chalk boards or erasable marker boards, I could use two or three. If you don't have them, bring in a couple of standing easels.

Draw the shades if you have them in the room. (The darker we can make the room, the better.)

All children will participate in a drawing excercise. Each student should bring a piece of construction paper (or xerox paper if it's more convenient). If it's a carpeted floor, have the kids bring a book or board to put the paper on. In addition, each child should have a couple of fine line markers, colored pencils, or crayons.

Write to me or email me for a copy of a dot drawing to be copied for all kindergarteners and first graders. This should be brought to the presentation (in addition to a couple of crayons.)

Write to me or email me for a copy of a set of bookmarks with 4 crocodiles on them. These are meant to be copied, cut, and distributed to the children on the day of my appearance. They are book marks and they're a gift from me to the kids. They'll look best if printed on a colored paper (heavy stock paper if you have it) and laminated if you have the equipment available. Printing the back is optional.

Note: I will be reading A Most Unusual Lunch as part of my presentation. When you preview the books, please just give them a sneak preview of this one (the first 5 or 6 pages)

Printable teacher's aids. Click on this link to access dot to dot art and more. These are for drawing activities that are done with first graders and younger.

Order form: Please print out the order form page (front and back), which can be found here in the school section. Copy and distribute this to the kids. You can email me the approximate tallies two weeks prior to my visit.