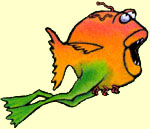 ACTIVITIES RECOMMENDED FOR SCHOOL PRESENTATION
Dot to dot drawing:
The concept this exercise teaches is to think of an object first in geometric shapes. This is called blocking out. The two dot to dot images shown here tie into the books, A MOST UNUSUAL LUNCH, and BARNYARD SONG. After seeing the story we do a guided exercise where I draw the shapes one by one on a large easel in front of the room. The kids follow along until the whole creature is blocked out. For step two we fill in the details that go within the shapes.
Bee dot to dot Lion dot to dot

Identifying feelings:
This activity is about identifying feelings in the animals and the word that goes with it. Each child would receive a copy of the page with all the animal faces. They could color them and then cut them out. The other page has the names of different feelings that go with the various animals. Here's how I imagine handling this activity. Ask the kids to find the animal that is angry (Or whichever emotion you want to start with). You would have some sort of folders pinned up on the wall with the names of the emotions printed in bold letters on them. (You could use a standard manilla folder with the top open or create a shape like the example shown here.) The kids would have to identify which one is the angry folder and put their animals in that folder. You would repeat this until they've put all the animals in the different folders.
Animal feelings graphics page
Animal feelings matching words page

Animal sounds:
This activity can be handled in a couple of ways. First print out the line drawings of the animals. You can print up enough so that each kid can color their own animal, or a few of them. The teacher could color one as an example. If you are particularly crafty, you could use the drawings as a template to cut the shapes of the animals out of colored construction paper. This creates a striking, dynamic image that will catch the children's attention. In advance of this exercise print out the sounds that go with each animal in large bold letters. ("Gobble-gobble, Moo-moo, etc.) Then they can be cut into tabs. Each tab of paper would have one animal sound on it. I imagine it being about 2 X 6 inches. Once the kids have colored their pictures a game can be played. It could be done at their desks or the animals could first be taped up on a wall. Their task would be to match the sound (On the tab) to the animal. By gluing, taping or tacking, they connect the sound to the animal. Taping or tacking are best if you would like to ever repeat the exercise.
"Buzz-buzz" "Cock-a-doodle-doo" "Gobble-gobble" "Meow"
"Moo-moo" "Oink-oink" "Quack-quack"