19th Annual April Fool's Day Classic
Come out Saturday April 3rd and Sunday April 4th to Blue Falls Grove and enjoy a springtime tradition of rugby, mud and revelry as teams from all over the East Coast descend on Reading, Pa. Admittance is free, families are welcome, and a $10.00 donation for social membership allows for two days of complimentary beer. The games will start at 9:00 Saturday and Sunday mornings and the festivities will continue into the night. Prizes awarded courtesy of Big Bear Promotions and Trooper Thorn's Irish Beefhouse.

1st place $750
2nd Place $500
3rd Place $250
Participants:
Men's Division: High School: Old Boys:
Cortland-Homer St. Pius X H.S. Reading S.L.O.B.s
North Bay *** Media H.S. Maryland-Chesapeake
Reading *
Monmouth **
Whitehorse
Philly-Whitemarsh 'B'
* 1st Prize
** 2nd Prize
*** 3rd Prize
Location: Blue Falls Grove
Under gray early April skies, typical of the April Fools Tournament, 6 men's club teams, 2 high school teams, and 2 Old Boy (35yr+) teams gathered to compete for pride, prizes, nostalgia, and recreation. In a gripping championship match Reading faced Monmouth, NJ. Reading took an early lead 5-0 with a try by Ryan Sauppee. Monmouth rallied with 2 unanswered converted tries and controlled play to lead 14-5. With a 2nd half try by J.R. Sauppee and conversion by Lance Orndorf, Reading pulled within 2 points. With time running out late in the 2nd half, John Hnatishion scored a brilliant try to take the lead and end the match, handing Reading its first April Fools Day Tournament Championship in 19 years.
Reading RFC left to right Top: Kirk Sauppee, Chris Chesonis, Mark Weibner, Pete Pakradooni, Jan Dobinsky,Matt Bressler, Doug Meneely,Lance Orndorf, Matt Shutte, Mike Balas, Jeff Mcarty, Art Miller, Ray Kase Bottom: Ryan Sauppee, Dom Sprecher, Ed Lover, Andy Hoopes, J.R. Sauppee, John Hnatsion, Cupid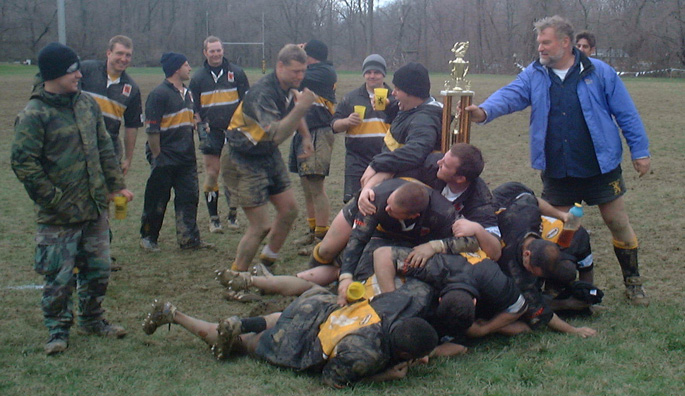 Tournament MVP Kirk Sauppee gets "Flesh Piled" by the Reading RFC